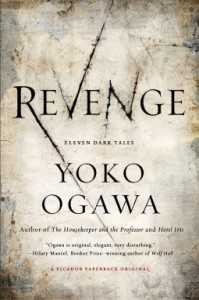 Published by Picador
Released January 29, 2013
162 pages
Where I got it: Finished copy received courtesy publisher
Rating:





Description (from publisher):
Sinister forces collide—and unite a host of desperate characters—in this eerie cycle of interwoven tales from Yoko Ogawa, the critically acclaimed author of The Housekeeper and the Professor.

An aspiring writer moves into a new apartment and discovers that her landlady has murdered her husband. Elsewhere, an accomplished surgeon is approached by a cabaret singer, whose beautiful appearance belies the grotesque condition of her heart. And while the surgeon's jealous lover vows to kill him, a violent envy also stirs in the soul of a lonely craftsman. Desire meets with impulse and erupts, attracting the attention of the surgeon's neighbor—who is drawn to a decaying residence that is now home to instruments of human torture. Murderers and mourners, mothers and children, lovers and innocent bystanders—their fates converge in an ominous and darkly beautiful web.

Yoko Ogawa's Revenge is a master class in the macabre that will haunt you to the last page.
In this sweetly brief collection of short stories, Yoko Ogawa gives readers glimpses of the mundane, mixed with unsettling imagery and hints of darkness under a calm exterior. Ogawa's writing is starkly beautiful. Although this is a translation, the economy and choice of words adds to the chilly and reserved tone of the stories, giving readers a well-rounded reading experience where language, plot, and theme all compliment and enhance one another.
I wouldn't classify this book as mainstream horror by any means. There is murder and, like the title says, revenge, but none of the stories strictly dwell on the violence. Instead, the narratives slowly reveal the underlying dark nature, swelling to a peak at the end of each tale. Themes and symbols are introduced only to reappear in later stories, building as you read further in the book. I found this interweaving of narrative to both enhance the disquieting nature of the book and to give the book a nice cohesion. The symbols reminded me of musical strains you might hear at different moments in movements of a symphony. In fact, the act of reading Revenge felt a great bit like listening to a good piece of music. I'm sure if I were to reread it I would pick up new notes and melodies I had missed on my earlier reading.
I found Revenge to be a very satisfying book to read, and although I haven't read it in the original Japanese, I think the translator Stephen Snyder deserves recognition for a translation in which the language mirrors the themes and emotions of the narrative. I recommend this book to lovers of literary horror, short stories, and to people who want to try something different but don't want to have to make a huge time commitment.