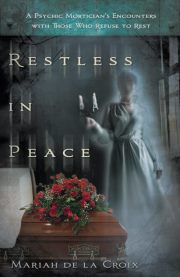 Published by Llewellyn Publications
Released September 8, 2012
244 pages
Where I got it: E-galley received from publisher via NetGalley
Rating:





Description (from Goodreads):
A deceased undertaker still carries out his life's work. The spirit of a nun comforts mourners. Red carnations materialize from nowhere . . .

Spooky Stories from the Dismal Trade

Alternately hair-raising, creepy, and touching, Mariah de la Croix's encounters with the supernatural during her tenure as a mortician are both chilling and unforgettable. Restless in Peace recounts her true experiences working in funeral homes–and the resident spirits' frightening, bizarre, and sometimes amusing behaviors. From the angry spirit who follows her home after work to the deceased man who likes to communicate through a microphone, this book offers a rare glimpse of living and working among the spirited dead.
Know what's more fun than a bunch of ghost stories? A bunch of ghost stories that take place in a funeral home! This book is completely about the often creepy, but sometimes touching, encounters with the spirits of the dead in the place where most of us will eventually wind up.
A part of me really wishes that this book had been written and marketed as fiction rather than as a true encounters kind of book. I love hearing the stories, but if somebody is trying to convince me that all of these things really happened to her, my inner skeptic is going to speak up. I've heard de la Croix interviewed a few times before, and she really does maintain that she is a psychic. It's the kind of thing you just can't argue, but I also have a really hard time believing. It seems too convenient to have ghostly encounter after ghostly encounter when so many of us have had no experiences. Granted, a funeral home might ratchet up the spook-factor.
De la Croix's writing voice didn't always work for me. It can be overly saccharine at times. I think this is a problem with the chemistry between my own personal tastes and her way of expressing herself, so others may not share this viewpoint. Subjectively, I would have preferred a bit less of calling people "dear" or the way she spoke to the spirits to get them to stop what they were doing.
What I enjoyed most about this read were the ins and outs of working in a funeral home. De la Croix shares some of the practicalities of embalming and cremation, but she also gives us an idea of the many little things that come with the job, like bringing in more tissues for mourners, or setting alarms and turning off lights at the end of the day. This provided a nice grounding and insight into this as an actual career, rather than simply a setting for the stories.
Restless in Peace is a fairly quick read full of plenty of ghostly encounters, and is a fair choice for those who are curious about funeral homes and want some creepy stories.