Welcome to the Paranormal Giveaway Hop, hosted by I Am A Reader, Not A Writer and YA Between the Lines.
The idea of the "hop" is that a whole bunch of blogs plan different giveaways, then link up to make it easier for visitors to find and enter them. This hop runs from Thursday, February 21, 2013 to Wednesday, February 27, 2013. The winner will be announced on the Rafflecopter form on Thursday, February 28, 2013.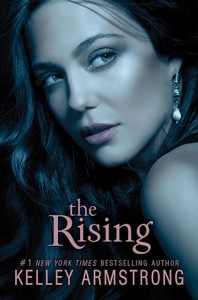 For this hop, I'm giving away an advanced reader copy of The Rising by Kelley Armstrong.
Description (from Goodreads):
Things are getting desperate for Maya and her friends. Hunted by the powerful St. Clouds and now a rival Cabal as well, they're quickly running out of places to hide. And with the whole world thinking they died in a helicopter crash, it's not like they can just go to the authorities for help.

All they have is the name and number of someone who might be able to give them a few answers. Answers to why they're so valuable, and why their supernatural powers are getting more and more out of control.

But Maya is unprepared for the truths that await her. And now, like it or not, she'll have to face down some demons from her past if she ever hopes to move on with her life. Because Maya can't keep running forever.

Old secrets are revealed and unexpected characters make a surprising return in this stunning conclusion to Kelley Armstrong's New York Timesbestselling Darkness Rising trilogy.
Contest open internationally.