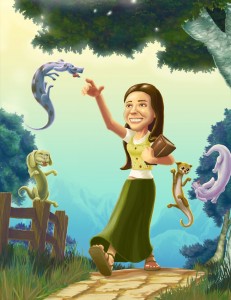 Welcome to Bibliosaurus Text, a website about the books I read. I'll be your hostess, Audrey. I plan to post reviews, book news, information about conferences I attend, and various other sundries related to books and reading.
What kinds of books can you expect on Bibliosaurus Text? Books I find interesting! I read YA paranormal fiction, mainstream fantasy and horror, non-fiction on conspiracy theory, the occult, unsolved mysteries, and even books about books. I am always reading and learning, and I hope you discover many new books and interests through my adventures.
Who am I and why should I have anything to say about books? The short answer is that I'm a rare book librarian, specifically a cataloger.  I create the records you see in library online catalogs, but focusing on rare, special books and manuscripts, sometimes centuries old. I am also a voracious reader with a degree in English literature, a passion for books and writing, and the desire to spread the love of reading to the whole world.
Thanks for visiting my site, and I hope that you like what you find!