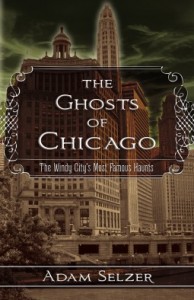 Published by  Llewellyn Publications
Released September 8, 2013
360 pages
Where I got it: E-galley received from publisher via NetGalley
Description (from Goodreads):
From Resurrection Mary and Al Capone to the Murder Castle of H. H. Holmes and the funeral train of Abraham Lincoln, the spine-tingling sights and sounds of Chicago's yesteryear are still with us . . . and so are its ghosts.

Seeking to find out what we really know about the ghastly past of this famously haunted metropolis, professional ghost hunter and historian Adam Selzer pieces together the truth behind Chicago's ghosts, and brings to light never-before-told first accounts. Take a history tour like no other of the famous and not-so-famous haunts around town. Sometimes the real story is far different from the urban legend–and most of the time it's even gorier.
I lived in Chicago for an academic year, but didn't make it off of the University of Chicago campus very often. Reading The Ghosts of Chicago made me wish I'd have explored the city more, or at the very least, taken a tour. Author Adam Selzer is a tour guide for haunted Chicago tours, and while I doubt he was in operation while I was attending classes there, I think I would have really enjoyed taking one of his tours. I got the next best thing, though: this book.
Selzer takes the reader through Chicago's neighborhoods and historic spots, bringing to light ghosts both real and legendary. I learned about the history of Chicago through his description, and he explains how the city grew and how streets and neighborhoods changed over time. I have little doubt that he's actually done some research on the physical locations, working to pinpoint historic addresses that have long since changed.
Selzer's interest in ghost hunting seems to mirror my own. I'm not interested in things like K2 meters or orb photographs. I don't need to use technology to tell me a place is creepy. Rather, I'm interested in doing what Jeff Belanger calls "legend tripping," or visiting spots where legends and stories have developed. I care about the history and the stories people tell. Adam Selzer's book really scratched that itch for me.
The Ghosts of Chicago works as a combination of ghost stories, history, and travel guide. You don't need to be familiar with Chicago to read and enjoy it, and if you're going to visit, you may want to have this book on hand to look up some interesting spots (or, if you're not into ghosts, to know where to avoid!).