Welcome again to In My Bookbag. This is my version of In My Mailbox, a weekly meme hosted by The Story Siren.
I added some ebooks to my bookbag this week after taking a trip to Net Galley.
The Postmortal by Drew Magary
The publisher's blurb for this one made it sound absolutely fascinating! I can't wait to read it.
The year is 2019 and a cure for aging has been discovered. After much political and cultural debate "The Cure" is made available to populations worldwide. Through fast-paced journal entries and blogger-style news story roundups compiled by an ever-watchful New York lawyer, John Farrell, readers experience a world where age-related diseases and deaths disappear altogether.
But there are residual effects and THE POSTMORTAL forces us to rethink our idea of marriage if rendered indefinite and the allocation of precious resources in a world with exponential population growth. Ideological divisions manifest themselves in chilling ways in this new environment, introducing "pro death" anarchists who inflict ghastly punishments on those who dare to remain young.
With the apocalypse on the horizon and regret creeping into everyday lives, living forever, as it turns out, isn't all it's cracked up to be.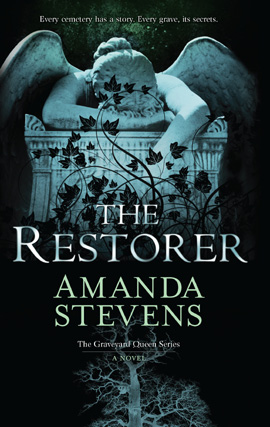 The Restorer (Book I in The Graveyard Queen series) by Amanda Stevens
I'm going to read this after I read the prequel The Abandoned, which you can get for free here. I love Southern Gothic stories, so this one was a must-read.
My name is Amelia Gray. I'm a cemetery restorer who sees ghosts. In order to protect myself from the parasitic nature of the dead, I've always held fast to the rules passed down from my father. But now a haunted police detective has entered my world and everything is changing, including the rules that have always kept me safe.
It started with the discovery of a young woman's brutalized body in an old Charleston graveyard I've been hired to restore. The clues to the killer—and to his other victims— lie in the headstone symbolism that only I can interpret. Devlin needs my help, but his ghosts shadow his every move, feeding off his warmth, sustaining their presence with his energy. To warn him would be to invite them into my life. I've vowed to keep my distance, but the pull of his magnetism grows ever stronger even as the symbols lead me closer to the killer and to the gossamer veil that separates this world from the next.
In addition to those great titles, I also had library holds come in!  Here they are:
Entwined by Heather Dixon
Azalea is trapped. Just when she should feel that everything is before her . . . beautiful gowns, dashing suitors, balls filled with dancing . . . it's taken away. All of it.
The Keeper understands. He's trapped, too, held for centuries within the walls of the palace. And so he extends an invitation.
Every night, Azalea and her eleven sisters may step through the enchanted passage in their room to dance in his silver forest.
But there is a cost.
The Keeper likes to keep things.
Azalea may not realize how tangled she is in his web until it is too late.
Haven by Kristi Cook
Violet McKenna isn't a normal girl with normal teenage issues; she has more to contend with than most people could handle. Violet thought she was just crazy when she had a vivid vision of her dad's murder. Her life started falling apart when her premonition came true. She's had flashes of other events too. The problem was nobody believed her until she found a new school: Winterhaven.
At Winterhaven, Violet finally feels like she belongs. She quickly finds a close group friends and discovers that they too have psychic 'gifts'—as do all the students at Winterhaven. But as soon as she feels settled she discovers the most intriguing and alluring boy she has ever met, and things quickly go awry. As the attraction between them grows, intense visions of the boy's death start to haunt her. In her premonitions the secret he is unwilling to share begins to reveal itself. And to Violet's horror, she learns that their destinies are intertwined in a critical–and deadly–way.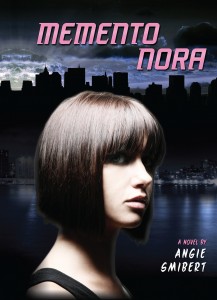 Memento Nora by Angie Smibert
Nora, the popular girl and happy consumer, witnesses a horrific bombing on a shopping trip with her mother. In Nora's near-future world, terrorism is so commonplace that she can pop one little white pill to forget and go on like nothing ever happened. However, when Nora makes her first trip to a Therapeutic Forgetting Clinic, she learns what her mother, a frequent forgetter, has been frequently forgetting. Nora secretly spits out the pill and holds on to her memories. The memory of the bombing as well as her mother's secret and her budding awareness of the world outside her little clique make it increasingly difficult for Nora to cope. She turns to two new friends, each with their own reasons to remember, and together they share their experiences with their classmates through an underground comic. They soon learn, though, they can't get away with remembering.
That's it for this week! What did you pick up?