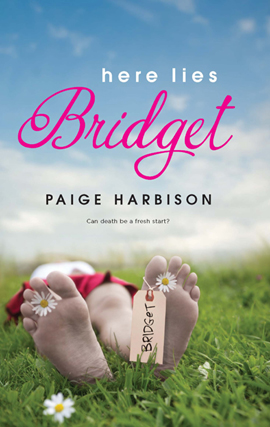 Published by Harlequin Teen
Released January 18, 2011
224 pages
Where I got it: Public library
Rating: 4 stars
Bridget Duke is the queen bee of her school.  She decides who is cool or uncool, and everybody is jealous of her.  So she thinks.  After a few key events where she treats others cruelly, and a new, perfect girl enters school, she starts to lose control of those around her.  People who were her friends begin standing up for themselves, and her classmates go from worshiping her to ridiculing her.  In a fit of anger, she races her car with reckless abandon…and ends up in a kind of purgatory where she must literally walk in the shoes of those whom she has affected.  Bridget has to make a choice, and that choice will decide whether she lives or dies.
Here Lies Bridget is not an original story.  At its heart, it is much like Charles Dickens' A Christmas Carol. A bad person is shown how their choices affect the ones around them, and is given a choice about how to continue in life.  I did not mind the predictable story, though, because where this book really shines is in the storytelling.  I felt compelled to read on, and to see how the events would unfold that would take Bridget to her ultimate judgement.  It was also very satisfying to see how things would unfold in the other points of view–that of the people Bridget affected.
Bridget herself was a complicated character.  She's completely hateable for most of the book.  Bridget is surprisingly self-aware as far as her behavior is concerned, but she makes a real effort to push aside any guilt that she feels.  As the plot progresses, we're slowly shown the reason behind Bridget's insecurity and aggression.  We also see that Bridget could be a good person if she could let go of her issues.
The writing in this book is fast-paced, and the dialog is realistic and effective.  I'd recommend this one to people who liked 7 Souls by Barnabas Miller and Jordan Orlando, or The Ghost and the Goth by Stacey Kade.   Here Lies Bridget was a very strong debut for Harbison, and as a young woman, I'm sure she has a lot more great writing to do.