Hi Guys!
I know ALA Midwinter was a couple of weeks ago, but my final box of books only arrived two days ago. I was putting off talking about the conference until I had everything on hand.
To begin, I'm not going to be discussing the conference too much. I'm a professional librarian, and I am currently on two committees for the section of ACRL to which I belong. Most of my time at ALA MW was spent in meetings, doing committee stuff that probably isn't of interest to the people who read this blog. If you really want to know, hit me up on twitter.
The week before Midwinter, I had the flu. I actually came in to work on the Thursday, which was the only day that week I worked. I left for Seattle directly after work, and didn't arrive until the wee hours of the morning. During the entire conference I was coughing a lot and felt weary. I also later found out that the flu had aggravated my asthma, so I had trouble breathing for the whole conference. This means I didn't go out to meet with people, even though I really wanted to go to the blogger meetup! On Friday I spent 4 hours in a committee meeting, then spent 7.5 hours in committee meetings and a discussion group on Saturday. I flew out again Sunday night after going to my section's wrap up meeting. What all this is to say is that I was exhausted and doing plenty of work in Seattle.
The highlight of my trip was visiting with my high school friends Chris and Bonnie, and meeting their 8 month old kid! They were two of my closest and favorite friends throughout high school, and I hadn't seen them for 6 or 7 years. Even better, Bonnie's a librarian. It was really good for my soul to be able to spend time with them again.
Now, the part you were all waiting for: the books! Because I did hit up the exhibits, three times. I won't post all of the books here, because there are plenty, but they're all on my Goodreads ALAMW2013 shelf, so you can view them there. I'll be posting a few that I'm really excited about here, though.
Gulp by Mary Roach
April 1st 2013 by W. W. Norton & Company
This was a Holy Grail book for me. I've read other books by Mary Roach, and she is an excellent science writer. She finds a way to jazz up whatever subject you're reading about and make it suddenly super interesting. I have the feel that I'm going to be bombarding my friends and coworkers with random facts about the digestive system when I start reading this one. Huge thanks to Norton for making this available!
Shards and Ashes, ed. Melissa Marr and Kelley Armstrong

February 19th 2013 by HarperCollins
I hadn't heard of this anthology until I saw the ARC sitting out, begging to be read. It includes stories by Veronica Roth, Kami Garcia, Nancy Holder, Carrie Ryan, Margaret Stohl, Rachel Caine, and Beth Revis. I can't wait to dive into these dystopian fiction short stories. I might be getting burnt on the genre, but I'm hopeful that a taste of a dystopian world, rather than a whole series, will make it much more palatable (I'm obviously still thinking about Mary Roach's Gulp!). Thanks HarperCollins!
Salt Sugar Fat: How the Food Giants Hooked Us by Michael Moss

February 26th 2013 by Random House
This non-fiction book looks completely awesome to me. I've been watching what I eat a little more lately, but I still get cravings for fatty, sugary, and salty foods. Ever wonder why we get those cravings? Moss explains it here, along with how many of the food manufacturers and fast food companies formulate their foods to addict you with these three ingredients on purpose. I'm hoping that this will turn out to have an energetic narration, because I want it to be the kind of book that riles me up, not puts me to sleep. Thanks Random House!
The Rising by Kelley Armstrong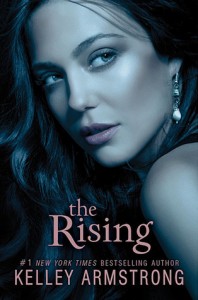 April 9th 2013 by HarperCollins
This is the third book in this series. I've only read the first so far, but have checked out the second from the library so I can be ready to dive right into this. Plus, I LOVE being able to polish off a series without having to wait so much time in between the book releases. I feel like I could pound these next two down and have a really fun time doing it.
Dead Silence by Kimberly Derting
April 16th 2013 by HarperCollins
This is another series book that I jumped up and down with joy when I saw. It wasn't that long ago that I read the third book in the Body Finder series, and now I have my hands on the fourth! This is a really fun series, and one that I'm actually happy isn't ending yet.
The 5th Wave by Rick Yancey

May 7th 2013 by Putnam Juvenile
This is one of the books that was getting a lot of publicity in the convention center. I didn't think much of it, until I saw the name Rick Yancey. He writes the Monstumologist books, which are just fantastically written. This one is being touted as The Passage meets Ender's Game, but I'm just hoping that it's Yancey doing his usual awesome writing. Thanks Putnam!
There are plenty of others that look really good to me, but these are my prize pieces. Did you go to ALA Midwinter? If so, what books are you the most excited to read?